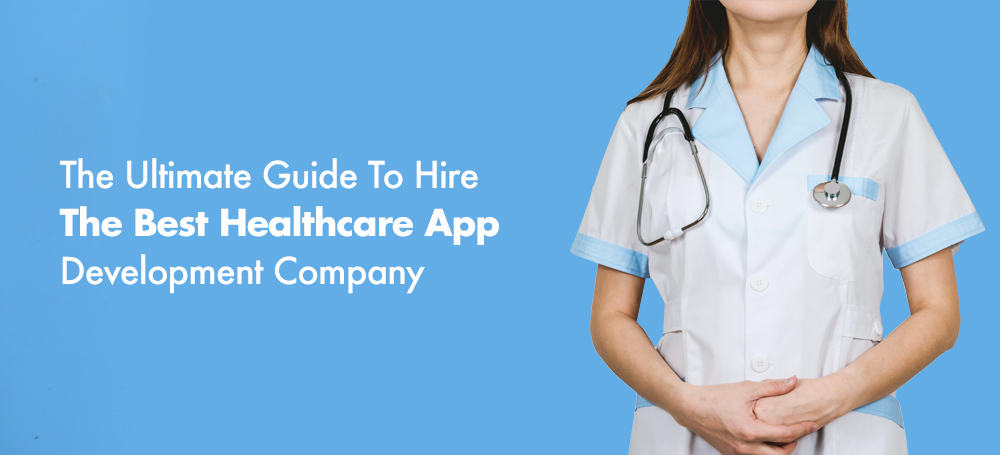 Apps
Product Development
Technology

The Ultimate Guide To Hire The Best Healthcare App Development Company
Gone are the days when you need to wait for hours and hours just to book the doctor's appointment. Standing in the queues, waiting for the doctor to arrive, and conducting tests is a regrettable experience for both patients and doctors. Many healthcare organizations have started functioning online after seeking online services from the healthcare app development company. It has become easier for doctors to monitor the patients, but managing the employees under one roof is also hassle-free.
The procedure of developing a healthcare application for smartphones to book online appointments, manage the documentation, deliver the medical reports, and deal with similar issues goes on the shoulders of the healthcare app development companies. As a result, here is our comprehensive guide to choosing the right healthcare app development company.
You can't determine the layout of your potential health application until you hire a healthcare mobile app development company. The healthcare industry is vast and one of the wealthiest sectors. When it comes to mobile healthcare apps, there are different categories, one is for catering to the needs of healthcare professionals, and the other is managing the patients.
Determine Your Health Application Requirements – Healthcare App Development


As a result, before you connect with any health app development company, you should be clear about your requirements. Talk to the other senior members of your healthcare organization and consider their opinions and suggestions.
Healthcare Application Development
We develop integrated healthcare mobile applications, physician platforms, and a lot more to bring healthcare to the fingertips of patients with smart mobile solutions that can be accessed anytime, anywhere.
Running A Comprehensive Market Analysis
Running a comprehensive market analysis and hiring a team of skilled app developers ensures that your application works smoothly and looks reputable in the app store. As per various surveys, patients and healthcare workers prefer doing the basic tasks through mobile applications instead of following the traditional methods.
Your comprehensive market analysis will also help you understand your requirements and objectives. In addition, if the market analysis goes well, you can also expect some funding from the investors to develop your healthcare application. As healthcare applications are becoming common day-by-day, your opponents might have already hired any healthcare app developer for app development.
As a result, you should also look at your opponents' applications and see how to make your healthcare application better than others. If your opponents' applications are better than yours, it will definitely affect your marketing strategy.
Examine how your opponents' applications grab others' attention and their USP. Are the services patient-friendly or good value of money provided? After examining all this, you can understand your patient's or healthcare workers' expectations and modify your hospital app development procedure.
However, if you've met a dead end while running a comprehensive market analysis, you're making some common mistakes. So, please be clear about your requirements and conduct your comprehensive market analysis appropriately.
Shortlist The Right Developers
While looking for the right healthcare app development services, you'll have to consider various essential questions. Should you hire an independent app development company? Or should you hire a freelance app developer to develop your application?
After considering all the advantages and drawbacks, hiring a well-reputed healthcare mobile app Development Company is the best bet. However, ensure that your hired app development company communicates well, and customer support should be top-notch. You save a lot of time when you collaborate with the right app development company.
There are numerous healthcare app development companies in the market to choose from; you have the freedom to select the right healthcare app development company.
Have A Look At The Portfolio
Any company providing healthcare development services has a special page dedicated to portfolios. The portfolio comprises the work samples done for other companies. You should thoroughly look at the portfolio and evaluate whether they have the right experience for developing applications of your choice.
Checking The References
The reputed healthcare app developers also mention some genuine references from their previous clients. You should note down these references and contact them personally over emails or calls (whichever you prefer).
Connecting with the references ensures you get a clear picture of your desired healthcare application development company and its expertise. Remember, none of the companies is 100% perfect; there might be some flaws that you need to accept.
Above all, what you hear from the references should influence your overall decision. While talking to the references, your objective should be to know more about the desired company.
Compare The Cost Of Different Services
Different services' prices depend on what value the company provides to you. Contact the shortlisted companies to present their services and features along with the quotes comprehensively. Choose the company that fits within your budget, but the quality matters the most. Don't always look for the best; find a company that understands and fulfills your needs.
Some Other Important Things You Should Consider
Certain companies provide separate healthcare app development services in the app development industry, and some are fully dedicated to healthcare app development. Your priority should be a healthcare app development company that understands your needs, explains the entire app development procedure, and provides quality customer support round the clock. For getting an edge over your competitors, you need to choose the best healthcare app development company for yourself.
Your desired app development company should be familiar with the latest cloud technologies. The app development field is dynamic, and following the latest trends is essential. The developers can create fast, responsive, and user-friendly mobile applications by using cloud technology.
Your healthcare application should have a user-friendly and responsive design. Data security is also essential; you don't want your organizations and patients' data to be hacked and used by third parties. Third parties shouldn't access whatever data your patients and healthcare workers are filling in the application. If your application lacks data security, the app stores will ban your app.
Final Thoughts
While reading this post until the end, you might have understood that hiring a healthcare app development company isn't easy. If you follow all the above-mentioned pointers appropriately, you'll indeed find the perfect app development company for yourself. Don't be in a rush; take time but choose the best partner for your organization.
Schedule an appointment today and receive a complimentary consultation.