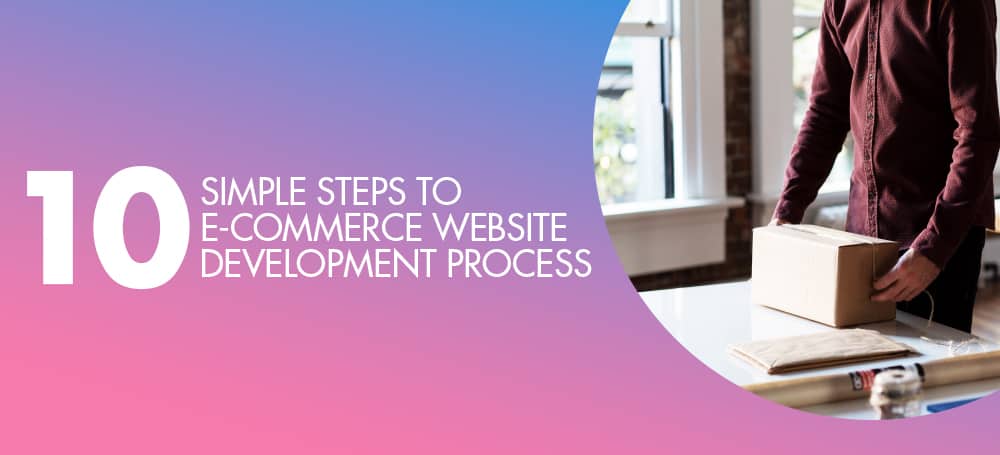 Business
Product Development

10 Simple Steps to eCommerce Website Development Process
Introduction
E-commerce is one of the domains that has continued growing over the years and only seeing an upwards trajectory. The number of digital buyers is quite surprising – 2.14 billion global online buyers. Amazing, right? According to some eCommerce industry experts, the industry will grow from around 14.1% to 22% by 2023. If we consider it from the IT perspective, the eCommerce industry will be one of the lucrative and promising industries for developers. But, yeah, eCommerce website development will definitely be challenging. Why? Because you need to understand the strategies and business viewpoints. Moreover, the development of an eCommerce website includes extensive planning, fundraising, and supply chain management.
Here, in this piece of content, we will focus on the foundation of eCommerce website development-related aspects. We will discuss some of the simple and basic steps to developing an E-commerce website. The article will help you lay a solid and good foundation for any complex development tasks.
10 Simple Steps to eCommerce Website Development
The first thing you need to do is, get clear answers to questions like – are you offering products or services? What are you about to sell? What will be your distribution methods, and what are the supply chain components?
You need to figure out whether your business model will be B2C or B2B. If you sell your product to the users in the marketplace – it will be a B2C business model. Amazon, MakeMyTrip, and Alibaba are big examples of such B2C E-commerce platforms. While in B2B, businesses offer their services to other similar companies. So First, you need to figure out your target users based on these decisions.
Choose a name and register a domain
Website names are the first identity and impression of any business. So your E-commerce website's name should be recognizable, unique, catchy, and memorable. But, make sure that the name should always be short and simple, not too long. Next, you need to buy a custom domain name to start your custom eCommerce website development services.
Choose the right website builder
After finalizing the name and purchasing the domain for a website, now it is time to select the right website builder for development. It is one of the crucial decisions in eCommerce website development.
Following are the top E-commerce websites builder.
Shopify – If you are a beginner in E-commerce, it will be the best for you.
Wix – Mostly, it is suitable to develop all kinds of online stores.
Weebly – If you are a start-up and want to develop a small online store, you can use it.
Bigcommerce – If you want to scale your business quickly at affordable costs
Squarespace – If you have a store of photography and want to develop creative and artistic stores.
Schedule an appointment today and receive a complimentary consultation.