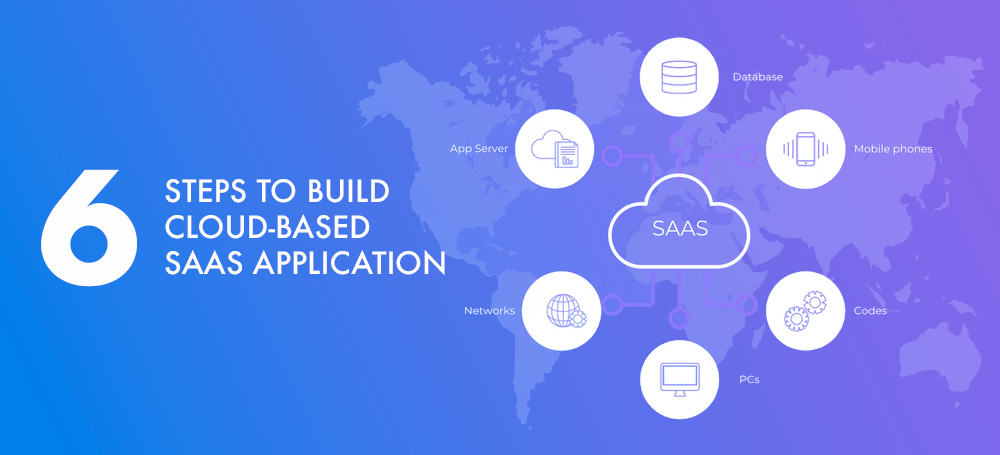 Applications
Product Development

6 Steps To Build Cloud-Based SaaS Application
Introduction
Software as a Service – known as SaaS helps organizations and their end-users complete their tasks efficiently without security hassles, networking issues, and platform dependency.
A perfect SaaS lets customers pay for the services they require. It also helps in scaling the business easier way. Due to this, many organizations have started shifting their platform to the cloud with the help of well-known SaaS development companies.
Why? Because the cloud offers many scalable features and enough space to expand the business the way organizations and product owners want.
To know more about SaaS applications and the steps to build a cloud-based SaaS application, read this blog till the end!
So, let's start!
Steps To Build A Cloud-based SaaS Application
Customer's Priority
The first thing that you need to keep in mind while developing a SaaS application is to prioritize your customers' needs.
The users will only invest in your product/service if they feel that it is worth adding some value to their business. And for that, you must give your customers a chance to experience your product/service.
You can offer a free trial to your end-users to have a clear idea about your digital product. They can decide whether to invest their time and money without any regret.
Competition Analysis
When you are in the business, you need to watch what your competitors are doing. If your product is better than your competitors, you can win the hearts of your customers. And, it is only possible when you have done good market research about your competitor, services they offer, features and functionalities they have in their SaaS application, etc.
Requirements Related To Projects
When developing any project, you need to keep certain project requirements in mind to get better results.
All you need to do is divide the project's needs into some parts and take care of it efficiently.
First, you need to take care of the application's basic features which make the application smooth for users.
Secondly, you need to add some eye-catching animation, design, and functionality to hold on to the potential users of your application.
Next, some eye-catching features should be present in applications to clearly grab the user's attention.
Here, Management plays a vital role. Improper Management may lead to discrepancies.
UI/UX Design
For any application, its user interface plays a crucial role. The design of your SaaS application must be eye-catching, user-friendly, and easy to use.
If your SaaS application has a user-friendly design, it becomes more efficient for users to use. If the application's design is not up to the mark, the user might reject it and not use it for the second time.
That's why; hiring a top-notch Software Development Company would be the best option. They put a lot of effort, money, and time into designing and developing a better UI/UX design.
First, they create the prototype of the interface to test it. If it looks good, they will work on the clickable design.
After working on the clickable development, developers move to the next steps of SaaS application development.
Schedule an appointment today and receive a complimentary consultation.