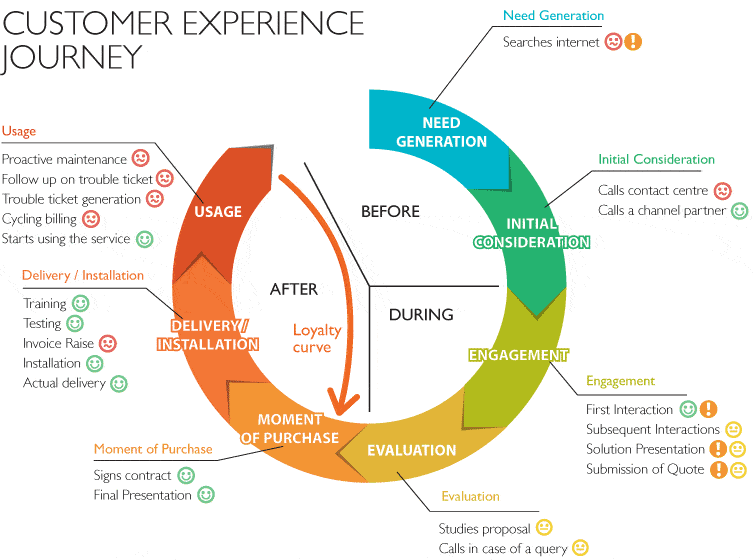 Product Development
User Experience

What Exactly is an Experience Map?
If you want a successful business, customer satisfaction to the extent of delight is a must. So, when you are building a product experience for your customer you need to be as customer focused as possible. An experience map lets you do just that. It helps you pin-point minute areas which must be taken care of. It takes you through each stage of customer interaction with your product. This helps you discover individual pain points rather than just delivering a product.
What exactly is an experience map?
As the name suggests, experience maps, map the experience of your customer. When a customer downloads and installs your app, they don't go and make a purchase right away. They go through your offerings first. They, then, compare what they see here to what else is available. They mull over their decision as well as consult with the influencer to decide on the purchase. Once they have decided, the next stage is to go ahead and buy the product/service. The next step is installation, which is more hands on.
The experience map is closely connected to the phases of the journey. Here's how:
Inquiry
Customers look for a new product for many reasons:
looking for a new experience
looking for a better option
looking for better service
looking for better deals
Customers might search on the internet to look for new products. They might be overwhelmed by the jargon and number of options they find. They then talk to an influencer to find some help.
Comparison
Once they have gained clarity on what they might be looking for and what is available they feel empowered. They now refine their search further and what to make a decision. Long tail keywords come into effect over here, as customer looks for specifics.
Purchase
Customer finally makes a decision and now it's time to make a purchase. They call customer care or go online to make the purchase. The kind of experience they have here is instrumental in the conversion actually taking place. If the wait time is long on the IVR or too much information is required, the customer might turn away.
Installation
The journey does not end at purchase. At the installation stage, if the customer is kept waiting, it will be bad for repeat business. Also, the customer might not recommend your services to friends and family. That is a rich and many a time unexploited source of new business. You wouldn't want that. So, you will design your UX in a way to ensure quick and seamless installation.
Build your app/product in a way that enriches the experience map of your customers rather than only selling your product. This way, you can cut down on the cost of acquiring new business and build on your current customer base and expand from there.
Once you know each and every step of your buyer's journey and what they are experiencing at each stage; you can create an empathetic UX/UI.
Looking to build an experience map and a great UX/UI for your product? Contact us at here . We would be happy to use our expertise of over a decade, to create seamless experience maps for your business.
Schedule an appointment today and receive a complimentary consultation.