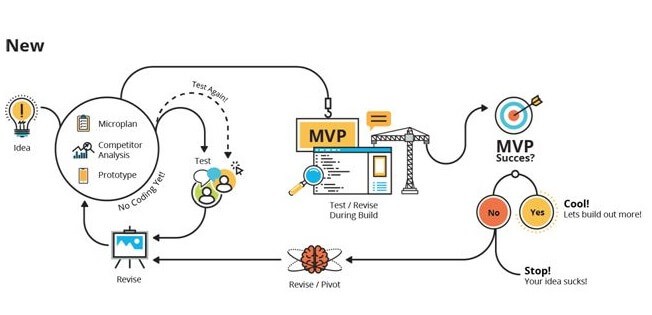 MVP
Product Development

Take the First Steps towards Success with MVP Development
As product development is a never-ending process and there is always a scope for innovation, gradual release of product features and enhancements helps lower business risks and minimize development costs. Thus companies initially release a product with only the features that determine its core function and offer customers suffice operational benefits. This product that helps evaluate future demands and serves a feedback for future development is known as a Minimum Viable Product or simply abbreviated as MVP. It is the first step towards a long innovative journey that will yield enhancements and improvements over the existing products, at regular intervals. Thus an MVP is the foundation for gaining market value and keeping customers loyal to the brand.
BALANCING RISK AND PROFIT WITH MVP DEVELOPMENT
An inclination towards "
Hit and Trial
" strategy has never helped businesses grow. Instead, such methodologies tend to fail and lead to abandoning of the entire product range. Product development is a critical process that determines how well a product is received and whether it is a justifiable solution to the ever-growing customer requisites. To avoid risks, we as a
Minimum Viable Product development company
serve businesses with a tailored management and development strategy that lets them communicate with the target customers through initial developments and gain a viable feedback for a successful future implementation. Thus the process ensures the best-suited products that satisfy end-customer needs.
MVP FOR PROGRESSIVE EVOLUTION AND ULTIMATE CUSTOMER SATISFACTION
Functionality, reliability, usability and customer feel (UX) are the key elements that determine a successful product. They are the goals of any
product development company
and what is required are less chaotic and risk-free strategies to assure that the targets are met. MVP is a strategy that discloses a company's intention and dedication to delivering sellable products and the ones that can be iterated to best suffice client demands.
A VIABLE PLATFORM FOR TESTING, IN THE REAL WORLD AND IN THE TARGET MARKET!
ACCELERATE LEARNING WITH MINIMUM RESOURCE INVESTMENT
Minimum Viable Product development is a real-time testing strategy that helps gain valuable product feedback and popularizes the same within the intended user groups. While the product is functional and sufficiently usable, it has the simplest core features that just deliver the intended purpose. A mature product is a result of extensive development and innovations. It is a gradual and strategic process that can be accelerated with our
Minimum Viable Product development services
. Years of development result in perfection and MVP forms its base and serves simultaneous benefits of sales and development testing.
MVP: A PERFECT SOLUTION FOR VAST DEVELOPMENT REQUIREMENTS
There are factors to determine how MVP can benefit your organization.
Roars
have the expertise, knowledge, and exposure of the trends that form the core of this technique. With our innovative approach, we have set up the criterion that determines which products can best gain from
Minimum Viable Product development
. Following product features are necessary for the best implication of MVP as a suitable strategy for your business needs:
A groundbreaking idea that fills the market void and gains instant customer attraction. The product should serve the core function with the minimum development process.
A flexible product is best suited for gradual development over time. As market release and testing generate feedback, it is a must that the design should effortlessly incorporate newer features and solutions.
With a sooner product launch, the advantages to save on cost and development time are served by an MVP.
Employed for a risk-free development and gaining instant sales, the process of
MVP development
guarantees that the customers are served a significant upgrade with each iteration. It allows you to start smaller and gradually integrate to a better and intelligent offering that nullifies the possibility of product failure.
Get a free 30 minutes consultation and gain valuable guidance
on how we offer tailored solutions to help you meet customer demands for better progress.
Schedule an appointment today and receive a complimentary consultation.